Effective Date: September 2023
Agreement
The "Agreement" below dictates your use of this website and services provided by Incorporate Fast INC (along with its subsidiaries or contracted third parties). The following constitutes a legal agreement between you, an individual and as an authorized representative for the company or entity that obtains any services from Incorporate Fast INC.
Additionally, our Privacy Policy is incorporated into this Agreement by this reference. By subscribing to our service you consent that you have read, comprehend, and agree to everything in this Agreement.
For specific terms regarding our VOIP phone service, read our VOIP Terms of Service Agreement.
For specific terms regarding our Trademark service, read our Trademark Terms of Service Agreement.
What We Do Here
Incorporate Fast INC, and its website provides incorporation, registered agent, corporate filing and LLC formation services. Incorporate Fast INC is not a legal service provider and thus does not provide legal advice. Although numerous services we offer are to form or maintain legal compliance within the United States, our services should never constitute legal advice, or opinion. All legal situations very greatly depending on the situation and Incorporate Fast INC encourages you to retain an attorney to address and legal situation that ever arise.
SMS/Text Messaging
By providing your mobile phone number and checking that you wish to receive communications, you are consenting to receive Short Message Service (SMS)/text messages from us. The SMS/Text messages you may receive service-related and promotional messages, including: updates, alerts, and information (e.g., order updates, account alerts, etc.)  and promotions, specials, and other marketing offers (e.g., cart reminders) through your wireless provider to the mobile number you provided, even if your mobile number is registered on any state or federal Do Not Call list. SMS/Text messages may be sent using an automatic telephone dialing system or other technology.
Message frequency varies but you will not receive more than one (1) message(s) per day. Standard message and data rates may apply from your wireless provider and you are responsible for all charges and fees associated with text messaging imposed by your wireless provider.
Your participation in this program is completely voluntary and you can Opt-Out at any time by submitting an inquiry on our website or emailing our support team.
To the extent permitted by applicable law, you agree that we will not be liable for failed, delayed, or misdirected delivery of any information sent via SMS/text message, or any errors in such information, and/or any action you may or may not take in reliance on the information received via SMS/text message.
Business Filings and Registered Agent Service
Service Providers. We may work with third-party providers to provide some of the registered agent services. You acknowledge and agree that these service providers may assist us in providing you with registered agent services.
Destruction of Documents
We do not perpetually retain the original copies of documents received by our offices. We expect that clients and their beneficiaries will diligently and promptly act to avoid any delivery of vital documents to our offices. In the event such documents or other mailings are delivered to our offices, we expect that clients and their beneficiaries will diligently act to request the original document or mailing to be forwarded to the client. Unless otherwise agreed in writing, all such forwarding requests will be at the client's expense. All documents and mailings are destroyed after thirty (30) days following the digital scanning of the documents and mailings.
Electronic Records and Signatures. We may need to file documents on your behalf so you consent to us affixing your electronic or hard copy signature in order to file documents on your behalf.
Receiving Service of Process & Other Legal Documents. You authorize us to receive service of process, important communications, and legal documents of any kind ("Legal Documents") on your behalf and upload them into the online account we provide you. You authorize us to receive up to 15 Legal Documents per year on your behalf. We reserve the right, and you agree, that a fee may be applied to your account for Legal Documents received above the current 15 per year limit. You also acknowledge and agree that this fee may be subject to change as a result of our sole discretion and determination. You also agree that we can open, scan, upload and transmit the Legal Documents into your account in connection with providing Services to you. Registered agent services are limited to the receipt of service of process as well as the receipt and forwarding of Legal Documents, and do not include the receipt of any general or regular mail or other items. Accordingly, we do not assume liability to you, or any third party, for loss of mail or other items which are not Legal Documents.
Provision of Accurate and Current Information. You agree that you are solely responsible for the accuracy, quality, integrity, legality, reliability, and appropriateness of your information. You agree that the accuracy of filings which we make on your behalf depends on the information you provide and you agree to promptly notify us when any of your information changes.
Regular Documents
Not all documents are created equally. The documents that we receive at our addresses on your company's behalf which are not communications from the Secretary of State related to your company's registration nor documents related to legal service of process are considered by us to be "Regular Documents." Depending on which services you have purchased from us, there may be a limit on how many Regular Documents will be accepted by our office on your company's behalf without incurring additional fees.
Additionally, you may be charged for any physical document forwarding requests that exceed your purchased limits. You agree to pay the fees that we post to your account related to any Regular Documents which we receive on your company's behalf in excess of your purchased service limit. This includes any fees posted in relation to requests to forward physical documents.
While we strive to process your Regular Documents as quickly as possible, you agree that we are not liable for any missed deadlines, time limits or other time sensitive Regular Documents we may receive, regardless if such Regular Documents are within your purchased service limit or not.
Receipt of Packages
While we are thrilled to serve as your registered agent and receive service of process and legal documents on your behalf, we should not be receiving packages on your behalf. Packages arriving at our office will be refused upon delivery or returned to their location of origin if immediate refusal is not possible. In the event that neither refusal nor return of the package is an option, you will be informed that we have it in our possession. By using our services you agree that, if we receive packages on your behalf, we are not acting as a bailee or warehouse and owe no duty of care in the holding and/or shipping of packages. If you would like the package delivered to the address associated with your account, you will be responsible for all shipping associated with the shipment of the package. You will also be responsible for the insuring of the package. We will only hold packages for 14 days from the date of receipt and notification before properly disposing of them.
Document Storage Policy
It is optional for users to upload documents to their client portal and comes as a benefit to having an online account with us. In order to use this feature, you must set up an online account with us. We give you permission to use this feature so long as you comply with our Terms, including our Privacy Policy and other applicable service-specific supplements to our Terms.
You are not obligated to use this document storage feature. However, if you choose to use this feature, you agree not to upload or store anything to which you do not possess the necessary rights or anything that is illegal, dangerous, destructive, or illicit material. We may review your conduct and content for compliance with these Terms. If we, in our sole discretion, determine that you are in violation of these Terms while providing you with service, then we may terminate any and all services connected to your account. It is your responsibility to ensure compliance with these Terms.
Intellectual Property License
If you choose to use this document storage feature, then you agree to provide us with a worldwide non-exclusive royalty-free license to use your content, which includes any of your intellectual property stored on our systems, in order to provide you with such services and features, to improve our operations along with your experience, and to develop new technologies and services. To be clear, you will continue to own your intellectual property, while we will own any and all improvements made to our operations as a result of our use of your intellectual property as described in the following paragraph.
This license allows us to host, reproduce, distribute, communicate, and use your content in the course of providing you service — for example, to save your content on our systems and make it accessible to you and us, regardless of where you may be located. You also agree that we may sub-license these rights to our representatives, subsidiaries, partners, affiliates, contractors, and other third-parties that are necessary to provide you with such services.
This license to use your intellectual property lasts until such time that you take affirmative steps to actually delete or remove the content from your online account. Once we confirm such content is removed from our systems, our license to such content expires, unless in our sole and absolute discretion there is a lawful reason to preserve such content (e.g. litigation, disaster recovery, etc.)
Termination of Services, generally
When any Service with us is canceled or terminated, you acknowledge and agree that:
Upon termination, we are released from any and all liability or duty we had or that we continue to have to notify you about lawsuits or any mail that we might continue to receive, even if our office address is still listed on any part of the corporate filing or if we are still listed as the registered agent; and
Upon termination, at our discretion we have the right to remove ourselves and our address, which may result in you or your company going into default and/or loss of licenses, good standing, or approval to perform work by various agencies; and
Anyone who has access to your account has the proper authority to cancel Services; and
The termination is binding on the company(s); and
Upon termination, you waive any and all rights or claims of statutory damages or tort claims; and
You will NOT file a "change of address" request with the United States Postal Service ("USPS").
Termination of Registered Agent Services
1) Termination by Us. We may terminate your registered agent Service at any time. Reasons for termination may include, but are not limited to: i) your failure to provide accurate, complete and current information for your account; ii) the inability to locate you after reasonable efforts are made; iii) your failure to pay for your Service; or iv) suspected illegal activity.
2) Termination by You. You may terminate your Service by logging onto your account and canceling your Service in your client portal. If we receive any documents on your behalf after you have canceled your account, you can either sign up for new registered agent services, pay for all Services provided by us prior to your cancellation, or pay a per document fee to view the document.
Handling of Legal Documents after we are no longer your registered agent. Once we are no longer your registered agent, if we receive further Legal Documents on your behalf, we will send an email notice to the last known email address that we have on file for you. If you want to view a Legal Document, you will need to renew your service with us, pay any fees incurred prior to cancelation or pay a per document fee in order to view the Legal Document. Once you take one of these actions, we will upload the Legal Document so that you can view it.
You Waive and Release any Claims and Agree to Hold Us Harmless and Indemnify Us. You waive and release us from any obligation to forward or re-mail documents that are received after your registered agent Service has been terminated and you specifically agree that we have no obligation to forward or re-mail any documents to you except as outlined in these Terms. You further agree to hold us and our affiliates harmless from any third party claim arising out of a delay or failure of you to receive Legal Documents after your registered agent Service has been terminated.
Termination of Services other than Registered Agent Services
a. Termination by us. We may terminate a Service or Services at any time. Reasons for termination may include, but are not limited to: 1) your failure to provide accurate, complete and current information for your account; 2) the inability to locate you after reasonable efforts are made; 3) your failure to pay for your Services; 4) suspected illegal activity; and 5) any other lawful reason.
b. Termination by you. You can also terminate a Service or Services at any time. To terminate a Service other than Registered Agent Services, log in to your account and cancel your Service in your client portal.
Refunds
Unless otherwise stated herein, all purchases are final and non-refundable after 90 days. No refunds will be given for any charges or credits more than 90 days old, unless otherwise agreed to in writing between you and us and/or is specific to the type of service we are providing or is required by law. We reserve the right to issue refunds or credits at our sole discretion unless otherwise required by law. If we issue a refund or credit, we are under no obligation to issue the same or similar refund in the future. This refund policy does not affect any statutory rights that may apply.
How to Terminate or Cancel a Service
To end a service with us and no longer receive invoices, you are required to login and request cancellation of a service with us directly, so you can read and agree to the end of service terms.
Cancellation can be requested at any time. There are no fees to cancel, but upon cancellation of services, you may be required to pay any past-due balances related to such services, unless otherwise specified in this agreement.
Acceptable use of our websites and Services
In using our websites and Services, you may not, nor may you permit any third party, directly or indirectly, to:
access or monitor any material or information on any of our systems, using any manual process or robot, spider, crawler, scraper, or other automated means;
except to the extent that any restriction is expressly prohibited by law, violate the restrictions in any robot exclusion headers on any Service, work around, bypass or circumvent any of the technical limitations of the Services, use any tool to enable features or functionalities that are otherwise disabled in the Services, or decompile, disassemble or otherwise reverse engineer the Services;
perform or attempt to perform any actions that would interfere with the proper working of the Services, or prevent access to or use of the Services by our other customers;
copy, reproduce, alter, modify, create derivative works, publicly display, republish, upload, post, transmit, resell or distribute in any way material, information or Services from us;
transfer any rights granted to you under these Terms;
use the Services except as expressly allowed under these Terms.
If we reasonably suspect that your account has been used for an unauthorized, illegal or criminal purpose, you hereby give us express authorization to share information about you and your account with law enforcement.
Intellectual Property Rights & Ownership
We own all right, title and interest, in and to all Intellectual Property Rights (as defined below) in the Services and websites, and these Terms do not grant you any rights to our Intellectual Property Rights. For purposes of these Terms, "Intellectual Property Rights" means all patent rights, copyright rights, mask work rights, moral rights, rights of publicity, trademark, trade dress, service mark rights, goodwill, trade secret rights, and any other intellectual property rights that may exist now or come into existence in the future, and all of their applications, registrations, renewals and extensions, under the laws of any state, country, territory or other jurisdiction.
You may submit comments or ideas about the Services ("Ideas"). By submitting any Idea, you agree that your disclosure is gratuitous, unsolicited, and without restriction, that it will not place us under any fiduciary, confidentiality or other obligation, and that we are free to use the Idea without any compensation to you, and/or to disclose the Idea on a non-confidential basis or otherwise to anyone.
We Are Not Attorneys, Accountants, or Fiduciaries
We provide information and act as a fulfillment service provider. We are not a law firm or an attorney and do not provide legal advice. As we are not attorneys, there is no attorney-client relationship between us and none of the communications between us are protected as attorney-client communications. Use of our services as a fulfillment service provider shall NOT create any fiduciary duty or obligations, either implied or express, by any agent, affiliate or employee of the company.
Force Majeure
We shall not be considered to be in breach or default of these Terms, and shall not be liable for any cessation, interruption, or delay in the performance of our Services or other obligations by reason of earthquake, flood, fire, storm, lightning, drought, landslide, hurricane, cyclone, typhoon, tornado, natural disaster, act of God or of the public enemy, epidemic, famine or plague, action of a court or public authority, change in law, explosion, war, terrorism, armed conflict, labor strike, lockout, boycott or other similar even that is beyond our reasonable control, whether foreseen or unforeseen (each a "Force Majeure Event"). If a Force Majeure Event continues for more than sixty days in the aggregate, we may immediately terminate our Services and shall have no liability for, or as a result of, any such termination.
Limitation on Time to Initiate a Dispute
You agree that any action or proceeding by you relating to any dispute must commence within one year after the alleged cause of action accrues.
Dispute Resolution by Binding Arbitration and Class Action Waiver
Most customer concerns can be resolved quickly by calling us at 866-999-8200. You can also email us at support@incorporatefast.com. In the unlikely even that we are unable to resolve your complaint to your satisfaction, we each agree to resolve those disputes through binding arbitration under the auspices of JAMS Alternative Dispute Resolution ("JAMS"). JAMS will administer any such arbitration under its Comprehensive Arbitration Rules. If the amount of the claims and counterclaims are less than Two Hundred and Fifty Thousand Dollars ($250,000.00), then the JAMS Streamlined Arbitration Rules and Procedures will be used. You agree that any arbitration pursuant to these Terms will be on an individual basis, and that you will not bring a claim as a plaintiff or class member in a class, consolidated, or representative action. You further agree that class arbitrations, class actions and consolidation with other arbitrations will not be allowed. All disputes and claims between us will be heard by a single arbitrator.
Entire Agreement
These Terms and the terms of our Privacy Policy constitute the entire agreement between you and Incorporate Fast with respect to our Services and websites. These Terms supersede and replace any other prior or contemporaneous agreements, or terms and conditions that may be applicable. These Terms create no third party beneficiary rights.
Modifications
We may revise these Terms from time to time, and will always post the most current version on our website. By continuing to use or access the Service after the revisions come into effect, you agree to be bound by the revised Terms.
Waiver, Severability & Assignment
Our failure to enforce a provision of these Terms is not a waiver of our right to do so at a later date. If a provision of these Terms is found to be unenforceable, the remaining provisions of the Terms will remain in full force and effect. You may assign your rights and obligations under these Terms provided we receive prior written notice of, and approve of, such assignment. We will not unreasonably withhold our approval. We may assign our rights or obligations to any successor in interest of any business associated with the Services.
Our Legal Business
After being employed as your registered agent, we will then receive legal service of process from the different Secretary of States, as well as other third parties that wish to correspond with you via your registered agent. We then forward all documents received on behalf of your entity by our website and email notification system. As a client, you agree to keep your contact information accurate and up to date so that we can comply with state requirements and be able to notify you properly.
You Still Gotta Do Your Own Taxes!
Incorporate Fast INC is in no way responsible for the accounting or tax responsibilities of the business entities we are contracted to be the registered agent for.
Incorporate Fast's Liability Limitations
The amount in which Incorporate Fast INC is liable for risk is correlated with the total amount you have paid for service under this agreement in the last 365 day span of services rendered, or $250, whichever is greater. In agreeing to these terms of service, you affirm that this limited liability constitutes a reasonable allocation of risk. This also establishes that our provided services in no way creates a fiduciary relationship between you and Incorporate Fast INC. You further agree that Incorporate Fast INC is not and will never be held liable for any consequential, indirect, direct, special, or incidental damages of any type. This limited liability applies no matter the form of action whether contract, tort (including negligence of any kind), and strict liability or otherwise, whether those damages are foreseeable and whether Incorporate Fast INC has been advised of the possibility of those damages. Any negligence on the part of you, or any other member/manager of you business entity will be considered a breech of this contract.
Disclaimer
None of the language on our website guarantees that all our services will be error free, or free from interruption; therefore, when you elect to hire Incorporate Fast INC, the services are performed at your own risk and you agree these services are for your convenience.
OUR SERVICES ARE PROVIDED ON AN "AS IS" AND "WHERE IS" BASIS, WITHOUT WARRANTY. INCORPORATE FAST INC HEREBY EXPRESSLY DISCLAIMS ALL CONDITIONS, REPRESENTATIONS AND WARRANTIES OF ANY KIND, WHETHER EXPRESS, IMPLIED OR STATUTORY, INCLUDING, BUT NOT LIMITED TO THE IMPLIED WARRANTIES OF MERCHANTABILITY, FITNESS FOR A PARTICULAR PURPOSE, TITLE AND NON-INFRINGEMENT OF THIRD PARTY RIGHTS WITH RESPECT TO ANY SERVICES PROVIDED BY INCORPORATE FAST INC.
INCORPORATE FAST INC DISCLAIMS ANY WARRANTIES THAT THE WEBSITE OR THE SERVICES WILL MEET YOUR REQUIREMENTS, THAT THE OPERATION OF THE WEBSITE OR THE SERVICES WILL BE UNINTERRUPTED OR ERROR-FREE OR THAT YOU WILL RECEIVE DOCUMENTS UPLOADED TO THE WEBSITE BY EMPLOYEES OR THIRD-PARTY VENDORS. INCORPORATE FAST INC DISCLAIMS RESPONSIBILITY FOR LOSS, INJURY, CLAIMS, LIABILITY, OR DAMAGE OF ANY KIND, WHETHER IN CONTRACT, TORT, BREACH OF STATUTORY DUTY, OR OTHERWISE.
Your Indemnification
You understand the information used to deliver these services is strictly based upon information given or provided by you and any error is the result of your failure to provide accurate information. By agreeing to use our services you agree to defend, indemnify, and hold harmless Incorporate Fast INC, its officers, directors, employees, agents, affiliates, representatives, sublicensees, successors, and assigns. This applies to any claim, action, demand, lawsuit, or other proceeding, where Incorporate Fast INC (or any of its officers, directors, employees, agents, affiliates or representatives, sublicensees, successors, and assigns) is a party (whether specifically named or threatened with inclusion) to an action when it acted in its role of registered agent, incorporator (in any form), corporate filing agent, or any other agency role by providing services under this Agreement. You agree to pay Incorporate Fast INC for its legal costs and fees that arises from its defense and inclusion to your litigation.
Auto-Pay Election
Our services are billed via an automatic payment feature for Business Renewal and Resident Agent Services unless you choose to opt out within your client account. Clients that opt-out will be invoiced. Customers enrolling in our Virtual Office services must enroll in monthly automatic payments. All accounts using auto-payment must provide us with valid and updated credit card information and when doing so authorize us to charge such credit card for all purchased services and applicable fees that come about during the duration of all initial service terms, and any following renewal term(s).
Specifics Regarding Auto-Pay Features:
All auto-payments will be charged to the credit/debit card on file for the business entity or person. It is the responsibility of the user to keep their card information current and valid or possibly be subject the stipulations outlined below.
Annual renewals will be automatically charged for one year after the initial charge date unless services are canceled or Auto-pay is opted out of within five days of the next charge date.
Virtual Office subscribers must use our auto-payment feature and all accounts will be charged every 30 days following the initial charge.
All Auto-Payments services must be canceled at least 3 days before the next charge date to avoid paying for the next month of subscription service, or year of annual service. All cancellations are handled through the user's online account for security purposes.
Annual auto-pay charges that fail to process will be rendered an unpaid invoice in the user's online account and subject to all fees and procedures outlined in this agreement.
Subscription or monthly auto-pay charges that fail to process will result in the immediate suspension, and probable cancellation of all Virtual Office services and features.
Declined Payments/Collections:
Like any other functioning business, we try to collect the money owed to us. That being said, we will always do our best to treat each client with the respect they deserve. To that end, this section addresses how we handle declined payments and collections, and also outlines what you're agreeing to as our client.
If you're enrolled in an autopay service, we'll charge whatever payment methods are stored in your online account. If all methods fail or there is not a valid method saved, we may suspend your account and require payment in order to reinstate services or in order to cancel your services. While we personally find the idea of collections revolting, we reserve our right to use legal action and collection agencies if deemed necessary.
To keep our lawyers satisfied, this is the more technical and detailed version:
If we don't receive payment ("Non-Payment"), you agree to pay all amounts due upon demand to resume or cancel your Service(s). You also authorize the Company to charge any and all outstanding fees and penalties that become due as a result from such Non-Payment. Additionally, following any such Non-Payment, you will not be eligible for monthly-billing or partial payments until your account is brought current. Non-Payment may also result in delayed services which include but are not limited to: locked documents, non-filing of compliance documents and the processing of additional orders.
You agree that you are liable for all third-party collection agency recovery fees and charges. You are solely responsible for any and all fees charged to your credit card by the issuer, bank, or financial institution including, but not limited to, membership, overdraft, insufficient funds, and over the credit limit fees. By failing to notify the Company of billing problems or discrepancies you agree that you waive your right to dispute such billing discrepancies. We may modify the price, content, or nature of the Service(s) at any time. We may provide notice of any such changes by email, notice to you upon log-in, or by publishing them on our website.
Legal Services Offered Through Law on Call
The following terms and conditions govern Law on Call, LLC's ("Law on Call") services, and your use of such services constitutes acceptance thereof. You are required to read these terms, and your use of Law on Call's services indicates your understanding thereof, and agreement thereto.
LAW ON CALL IS OWNED BY NON-LAWYERS
This service is being provided by an entity that is not a traditional legal provider. This entity is owned/managed (fully or partially) by nonlawyers who are not subject to the same rules as lawyers. While Law on Call is owned by nonlawyers, only lawyers and qualified personnel at Law on Call will provide services and legal advice to you. If you have questions, please contact us at 801-889-1980.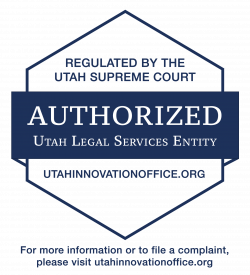 Attorney-client privilege, ethics and confidentiality rules govern the services provided by Law on Call. By your use of Law on Call's services, you agree and understand that no attorney-client relationship has been formed except as related to the specific matter for which you retained our services. Additionally, no attorney-client relationship exists between you and Law on Call unless we accept your invitation/request to provide services, subject to a conflict investigation, as described below.
Following an order with Law on Call, Law on Call will conduct a conflict check. We may be required to refuse service in the event of a legal conflict of interest, pursuant to the ethical rules prescribed by the applicable State Bar. A conflict of interest may arise if the service you request involves another Law on Call client and your interests are different than, or adversarial to the other Law on Call client. In such event, Law on Call will notify each client of the conflict of interest, and, unfortunately, Law on Call may be required to deny service to either or both clients. Law on Call will not be considered bound by this Agreement, and no attorney-client relationship shall be formed until it is determined, by Law on Call, that no conflict of interest exists.
You agree that, at the time Law on Call's services to you conclude, as determined by Law on Call, you will immediately pay all unpaid charges incurred by our attorneys, which are charged by the hour at our attorneys' prevailing rates for time spent on your matter. No initial retainer shall be required, and Law on Call will not hold any client funds for any purpose. You also agree that you will reimburse any filing fees and other fees fixed by law or assessed by courts or public agencies in connection with your matter, which shall be included on your invoice, at the time your matter has concluded.
Law on Call is being retained to provide legal advice. Nothing in this Agreement, and nothing contained in our attorney's statements to you shall be construed as a promise or guarantee in regard to any particular outcome related to your legal matter. Any comments by our attorneys about the outcome of your matter are expressions of opinion only.
If you provide unsolicited information to Law on Call through this website, email, over the phone, or through any other medium, the provision of such information does not, and will not, create an attorney-client relationship between you and Law on Call or any of its attorneys. If you provide information or material through this website in connection with a matter for which we do not already represent you, or for which we have not agreed to represent you, that information and material may not be privileged or confidential and may not be secure. If you e-mail information to us in connection with any matter, you acknowledge and understand that Internet e-mail may not be secure. Please take this into consideration when sending proprietary, confidential or particularly sensitive information as Law on Call will not be held liable for any such breach or disclosure of such information.
BY SUBMITTING A LEGAL REQUEST ORDER ON THIS WEBSITE, YOU ACKNOWLEDGE THAT YOU HAVE READ, UNDERSTAND, AND AGREE TO BE BOUND BY THE TERMS ABOVE.
Contact Info
Phone: (866) 999-8200
Email: support@incorporatefast.com